SUPERIMAGE CNC MILLING MACHINING CENTER
Horizontal 5-axis CNC Machining Center
Horizontal 5-axis CNC Milling Center
Horizontal 5-axis CNC Machine Tool
(YSWZ-500)(DMU65 CNC Machining Center).
(YSWZ-500)(DMU65 CNC Milling Machine)
Vertical CNC Machining Center with horizontal 5-axis rotatry table
For cutting
For milling
For drilling
For engraving
For turning
....
Multi-function
High efficiency, High Quality, High Hardness, High Stability
Low cost, Low noise, Low consumable, Less money
Yongshuo CNC Machine Center:
High Precision, High Rigidity, High Stability, High Efficiency, Long Use Life
SuperImage-Yongshuo CNC Machine Center Function List:
Functions List
F1
Spindle Tapping Blowing Device
F2
Spindle Surround Spraying Cooling System
F3
Spindle Constant Temperature Oil Cooling System
F4
Spindle Center Air-curtain Automatical Protection System
F5
Automatically Centralized Lubrication System
F6
Z-axis Balance of Pneumatic and Hydraulic Systems
F7
Tools Cooling System
(Water-cooled, Air-cooled)
F8
Tools Tapping Air Pre-storage System
F9
Air Pre-Filtering System for Tapping
F10
Guide Rails Protection System
F11
Dust-proof Device of Electric Box
F12
Air Cooling System
F13
Hydraulic Station System
F14
Nitrogen Balance Cylinder
F15
Automatic Tool Height Setter Function
F16
4-axis Pre-integrated Interface Funciton in Mitsubishi/Fanuc
F17
5-axis Pre-integrated Interface Funciton in Mitsubishi/Fanuc
F18
Big Milling Tools Tapping ProtectionFunction
F19
Work-pieces Automatic Centering Function
F20
Program Memory and Breakpoint Continuous Transmission Function
F21
Real-time Automatic Tracking and Display Function
F22
Fast Feed Speed Regulation Function
F23
Program Handwheel Simulation Function
F24
Surface Acceleration Function
F25
Spindle Data Dynamic Setting Function
F26
Other functions can be added as per the request.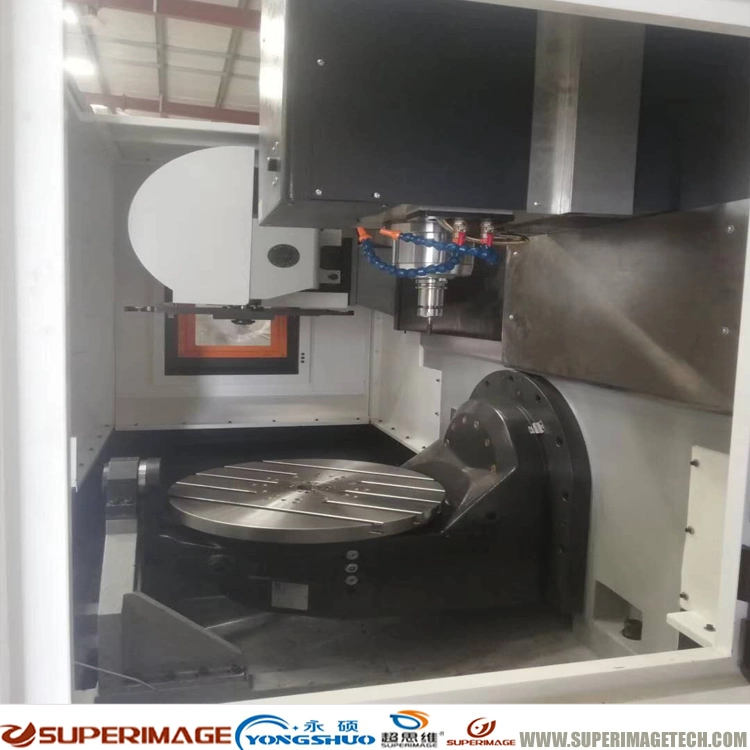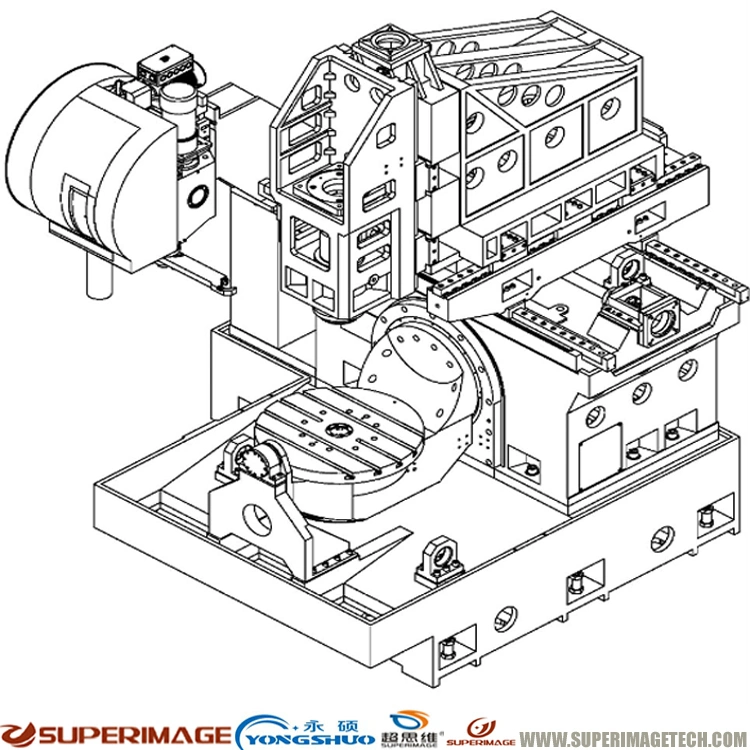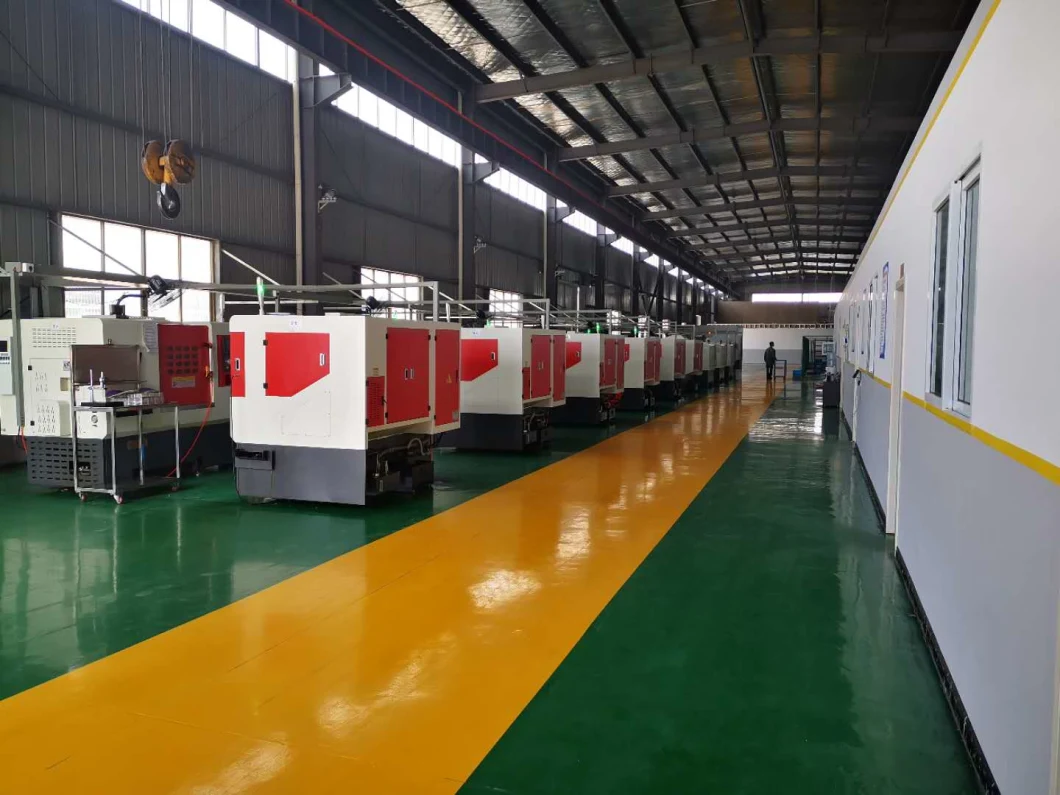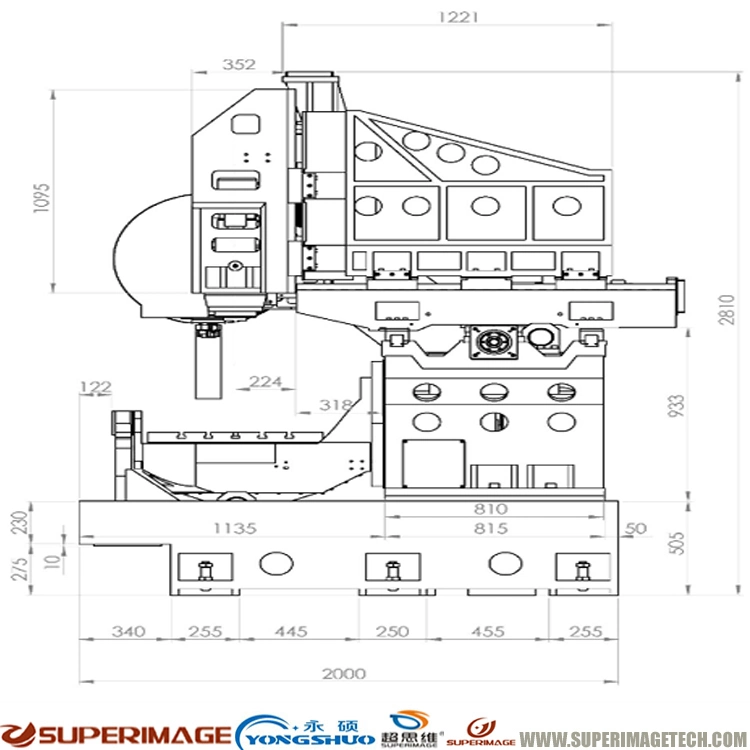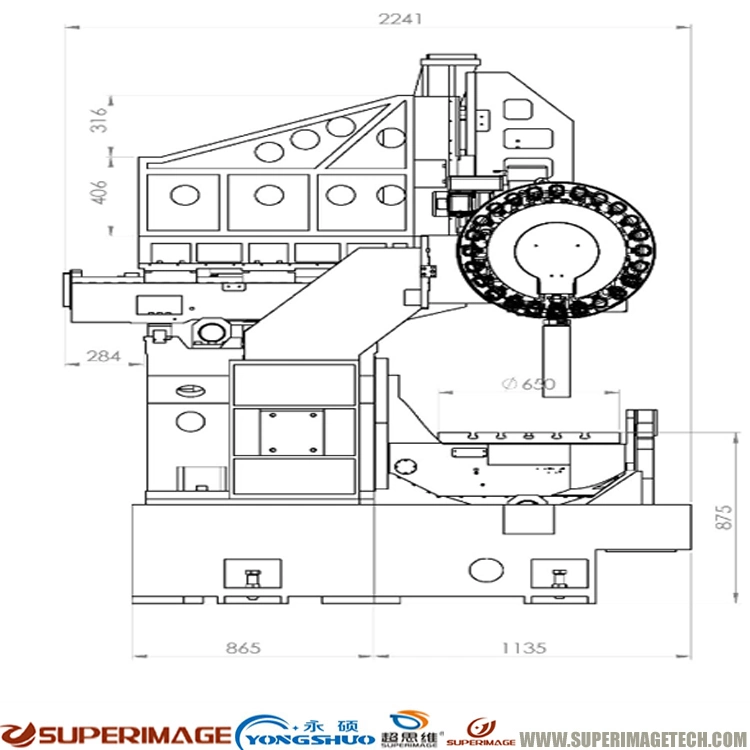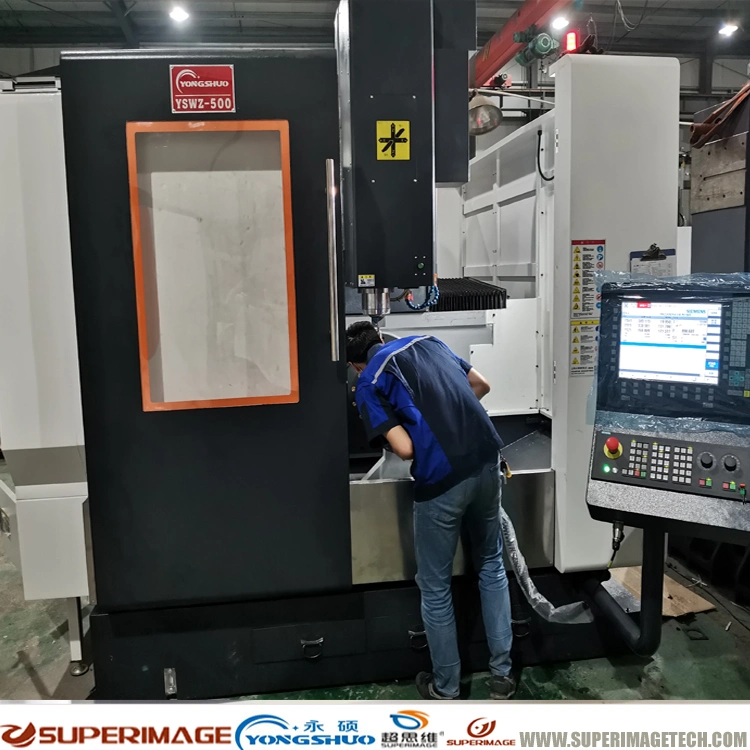 NO.
Main Technical DataMain Hardware & Software/Main Function List
YSWZ-650
Standard Configuration
1
Main Technical Data

1-0

CNC Controller

CNC Control System

SIMENS 840D 5axis

1-1

Machine Model

YSWZ-650

1-2

XYZ Axis Traveling Distance

X-axis Valid Processing Distance

820mm

Left Traveling Distance

500mm

Right Traveling Distance

320mm

Y-axis Valid Processing Distance

520mm

Z-axis Valid Processing Distance

460mm

Worktable to Spindle Nose(MM)

220-680

1-3

Workbench

Valid working size

650*650mm

Max.Loading weight

600kg

Groove Width/Spacing(MM)

5-18*100

Super-hard anti-scratch & wear resistance quenching process

R

Spindle

Spindle RPM

10000-12000rpm

Spindle Speed

Variable Speed Adjust(Stepless)

Spindle Taper

SK40/BT40

Spindle Connect Mode

Direct Connect

Digital drives

Spindle Cooling Mode

Spindle Surround Cooling & Center Cooling (Coolant Through Spindle)

1-4

X,Y,Z Axis Working Speed(M/MIN)

Moving

Speed(X/Y m/min)

360000

Moving

Speed(Z m/min)

360000

Cutting Speed(X/Y m/min)

10000

1-5

Guide Rails, Rods, Screws, and Sliders

XYZ Ball Screws Specification

4512

X Linear Rails Specification

MSA45LA

YZ Linear Rails Specification

MSA45LA

1-6

Motors

Spindle Motor

11KW

Feeding Motors

3KW

1-7

ATC System(Tool Magazine)

Taper Model

MAS BT40/SK40

Tool Qty.(Auto Tool Changer)

24

1-8

5-Axis Rotary Table

Rotation (C-axis)

360o

Swivel Range(A(B)-axis)

-50 to +1100

1-9

Working Request

Power Supply Input

3-phase, 380v,50Hz

Air Pressure

6-Bar

1-10

Covering Area

2700*2350*2470mm

1-11

Machine Weight

10,000KG
2. Price Terms:
(1).For different hardware and software and function configuration, the price is different.Please email us for quotation and details.
(2). Delivery Time and Transport Method:
Delivery Time: 30 Days after receiving the down payment.
(3). Payment Method: By T/T via Bank
Down payment: 50% of total amount. Before delivery, 50% balance need to be paid.
(4). Quality Warranty:
In China Mainland, within 12 month, SuperImage is responsible for repairing and maintenance without charge. If users ask for a spot installation, maintenance, and repairs aboard, the business trip fares (usually tickets, hotels, and etc.) need to be calculated additionally.
(5). Advantages & basic using information of SuperImage CNC Milling Machine Tool:
1). Hand wheel Guidance Function: this function can guide equipment to run by operating the hand wheel during the new program test processing, which can avoid collision caused by incorrect procedures in a big scale.
. Centralization Function: Work piece coordinate system can be automatically calculated, and the programs can be automatically written. No calculators and manual input steps are needed;
. High Speed Ethernet Transmission: Convenient and fast; Easy to call programs and solve programs problem during running with the expanded 2G memory
.Tools Alignment Instrument (Option): Automatic tool aligning processing, convenient and fast;
.High-quality HT300 Castings: The whole machine adopts high-grade resin sand molding castings, treated by tempering, vibration and natural aging treatment, the internal stress in the casting was completely eliminated.
.Ultra-wide Base: Provide the most stable loading support capacity; The base is equipped with the design of the base guide plate, which make cutting fluid never leak;
. Top-quality C3 ball screws made in Taiwan: The top-quality C3 grade ball screws made in Taiwan is used to ensure the accuracy of axial operation.
.Top-quality precision P-level linear guide rails made in Taiwan and Germany: Ensure smooth and stable transmission;
.Excellent telescopic shield: X,Y-axis rear shield adopts single-chip herringbone and full-Rail support to achieve effective protection and easy chip removal as well as easy to maintenance;
.Top-quality Spindle made in Taiwan: P4 grade bearings are used to assemble the main body to ensure the low vibration of each running speeds.
. Motors Dynamic Balance: Using Taiwan Dynamic Balance Instrument, the motor rotates at full speed to ensure that the motor reaches the minimum amplitude and extend tools life;
. The accuracy of key parts of machine tools is measured by three-coordinate measuring instrument, and the important accuracy of machine tools before ex-factory is inspected and tested strictly by using the RENISHAW laser interferometer and spherical rod testers, which make the precision of CNC machining be able to be guaranteed completely.
13). SuperImage CNC Machining Tools Protection:
A. Safety, Completeness and Reliability of Machine Tool Protection Device:
Complying with GB15760-1995 "General Technical Spare Parts for Safety Protection of Metal Cutting Machine Tools"
Machine Tool Noise: 83 dB in accordance with the National Standard
Cooling of electronic control cabinet adopts cold and heat exchanger to down the working temperature, sealed & dustproof; The dustproof grade reaches to IP65;
Lubrication system: Mandatory lubrication of sliding surfaces and ball screws is adopted with automatic lubrication device; Adjustable oil injection interval and quantity; Machine display alarm when oil level is too low (oil shortage);
Selection of Lubricating Oil: T68# Guide Lubricant oil
Lubrication box volume: 4 liters
Cooling system:
Cooling System Volume: 200L
Taiwan Luorui Cooling Pump, Motor Power 1HP
Cutting cooling for universal sprinkler spraying coolant;
Pneumatic system air source requirements:
Flow should be more than 280L/min
Pressure should be greater than 0.6 m Pa
Air cleanliness filtering accuracy: 100 um
Dryness Dew Point Temperature:10 ºC
Pneumatic system is equipped with three-point combination, pressure switch, solenoid valve and so on, to achieve pneumatic oil pressure loosening.
Knife pressure 6-8 kg/cm 2;
Flow rate 220 L/min, external air gun, which can clear the working area.
Fast pneumatic tools unloading device - supercharged cylinder is adopted.
Tri-color warning lights:
Green Light: Display Program Execution
Red light: display alarm
Yellow light: end of display program
Machine Tool Power Supply:
Power supply voltage range: AC three-phase 380V + 5% 50Hz
Electric capacity of machine tools: 40 KVA
Air source: 6kg/cm2
Normal conditions of use:
Ambient temperature: 0-40 C / Humidity: <80%
. The Description of Main Structure of SuperImage-Yongshuo CNC Milling Machining Tool;
SuperImage-Yongshuo CNC Machine Workbench (X-axis)
The worktable guide rail adopts imported high rigidity rolling guide rail with the internationally popular hydrostatic inlaid steel technologies. The system has high rigidity and no crawling. It can move smoothly in any feed speed range with low speed and fast speed. The worktable is made of high strength non-stress cast iron and resin sand. The feedback system adopts the closed-loop detection of rotary encoder to ensure the high precision and accuracy stability of the machine tool table in long-term running more than 10 years.
SuperImage-Yongshuo CNC Machine Saddle (Y-axis)
The sliding saddle parts (Y-axis) are made of high strength ductile iron and resin sand with high strength and rigidity. The drive system adopts AC servo motor to drive the ball screw to rotate directly after speed reduction. It realizes the linear reciprocating motion of Y axis and the closed-loop detection of rotary encoder. It has high positioning accuracy and good accuracy retention. The Y-axis screw auxiliary support device originally invented in China prevents the influence of the drop of the screw on the accuracy and life of the machine tool. The structure is simple and reliable, and ensures the high precision, high speed and smooth operation of the screw.
The Z-axis servo system adopts AC servo motor to drive the heavy load ball screw to rotate directly after speed reduction, and the double cylinder hydraulic balancing, so as to realize the high precision reciprocating motion of Z-axis. Lead screw support adopts fixed pre-stretching structure at both ends, which is rigid and suitable for heavy cutting.
SuperImage-Yongshuo CNC Machine Column
Material: High strength stress-free cast iron, resin sand molding.
The gantry structure with square double columns is adopted for the column. The frame has large cross section, strong rigidity and high accuracy retention, which meets the requirements of heavy cutting and finishing.
SuperImage-Yongshuo CNC Machine Lubrication system
The guide rail and screw of the whole machine adopt centralized timing and quantitative lubrication system, and the advanced flow relay is used to control the oil quantity in the oil circuit. It can adjust the oil supply period and quantity of each lubricating point, and realize full automatic centralized lubrication through the control of numerical control system. Standardized waste oil recovery mechanism to eliminate oil/liquid mixing and environmental pollution. Moreover, the spindle bearings, X-axis clearance reduction gearbox and screw bearings are lubricated with lithium-based grease specially designed for NSK P4 accuracy in Japan, which is convenient for maintenance.
SuperImage-Yongshuo CNC Machine Chip Removal Device
A spiral chip remover is distributed on both sides of the workbench, and a chain plate chip remover is arranged at the end. The chip is discharged into a chip collecting cart on one side for users to pour the chip.
SuperImage-Yongshuo CNC Machine Numerical control Unit
The numerical control system of SuperImage Big Scale Gantry CNC Milling Machining Tool adopts Mitsubishi/Fanuc OI-MF, which is a high performance and high reliability CNC system. Because of the LSI customized electronic components, the control part is miniaturized. The system has abundant display contents, and can display the kinetic energy of the machining trajectory, which is easy to use. Ladder diagram real-time monitoring page can bring convenience to maintenance. Mitsubishi/Fanuc OI-MF system uses digital servo system. The mechanical errors in transmission system can be corrected by memory pitch error compensation and gap compensation. Because of the software servo control function of high resolution position detector and high speed microprocessor, high speed and high precision servo control is realized.
The system display uses 10.4"LCD color screen, standard Ethernet and PCMCIA input interface. The standard built-in program capacity is 256KB, and the expansion capacity is 2G. It can easily edit and transmit programs. It integrates convenient and efficient processing into a control system. The system built-in AI NANO function can be programmed 180 single sections, which can effectively resist the contour control of 3D processing and improve it. Shape accuracy.
The 64 bit RISC processor, AINO HPCC and DATA SERVO can be programmed in 600 single sections. It can be easily connected to high-speed and high-precision processing for all kinds of complex 3D curves to improve product output and production efficiency. Ladder diagram real-time monitoring page can bring convenience to maintenance.
SuperImage-Yongshuo CNC Machine Spindle Unit
The spindle adopts Mitsubishi/Fanuc high speed digit spindle with convenient parameter setting and fault display function, and the rotating speed reach 8000rpm with Mitsubishi/Fanuc high efficiency and high resolution & high stability.
SuperImage-Yongshuo CNC Machine Feeding System
X, Y, Z three-axis motors adopt the combination of full digital servo unit and AC servo motor.
This system owns easy adjustment with a good kinetic performance and high reliability.
SuperImage-Yongshuo CNC Machine Electric Control Units
Logic control of machine tool adopts PMC control built in NC system, which can monitor fault points.
(7). About training:
After the contract is signed, the user can send someone to the seller's factory (SuperImag-Yongshuo) for the spot training for three days before the machine is in place. Participants in the training should have certain machine tool operation skills.
Training Contents:
Operation, including:
Introduction of Switching Procedure;
Key Function of Operating Panel;
Notice of Machine Tool Operation and so on;
Programming, including:
Introduction of Coordinate System;
G Instruction, M/S/T Instruction, Composition of Program;
The instruction of the programming structure;
The editing/storing/using of program and so on;
Programming exercises.
Maintenance, including:
Introduction of mechanical/circuit structure;
Key points of daily maintenance;
General fault diagnosis methods;
General Introduction of troubleshooting methods, maintenance exercises, etc